Model 1500 Electronic Air Filter
Call for Price
Power consumption: <2 watt
Pressure drop: 0.18 in.w.c @300 fpm
Nominal Input Voltage: 24 vols (floating)
OUT OF STOCK
The Model 1500 is also sold as:
Description
As good as it gets. This technologically advanced piece of equipment will blow your mind with its exceptional performance and affordability. Model 1500 (formerly Airscreen 1500) is an improved version of our 1000 model.
The main differences between these two models are:

1. Higher efficiency
2. Lower pressure drop
3. Electro-fibre™ media
4. Superior electronics
Model 1500 offers HEPA CLASS™ PERFORMANCE for about 1/4 of the price of a HEPA air cleaner. It silently works in the background while you work, play or sleep. It purifies your indoor air to the smallest particle. Model 1500 is a high security prison for mites, bacteria, mould, viruses and other harmful microscopic airborne particles and organisms.
Its electro-fibres evenly deliver just the right amount of charge to feather-light media. Once charged, the media acts as a powerful magnet quietly attracting particles below one micron.
A combination of these factors allows Aircleen 1500 to have the lowest pressure drop on
the market. Low pressure drop saves you hundreds of dollars annually on your heating and cooling costs.
Brochure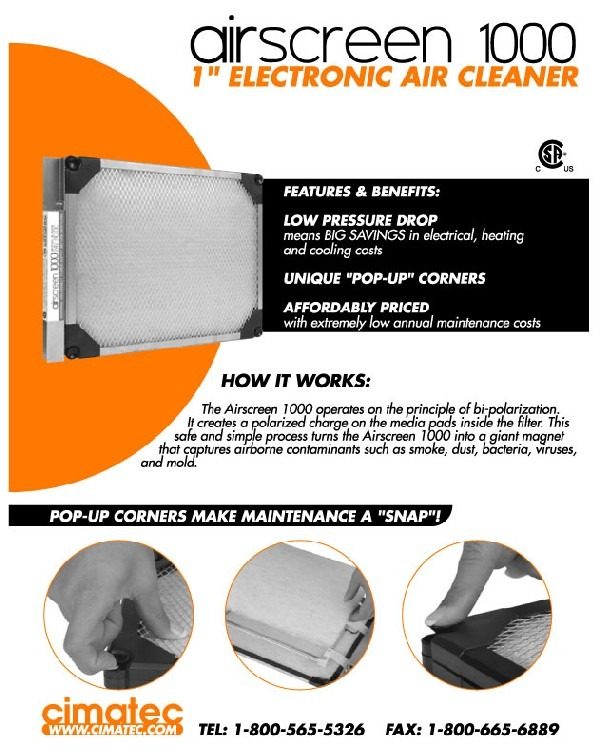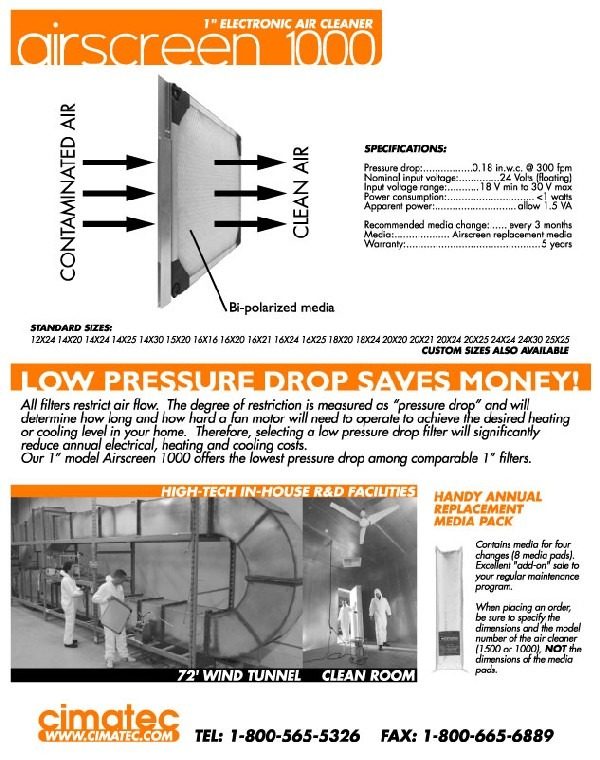 Support Material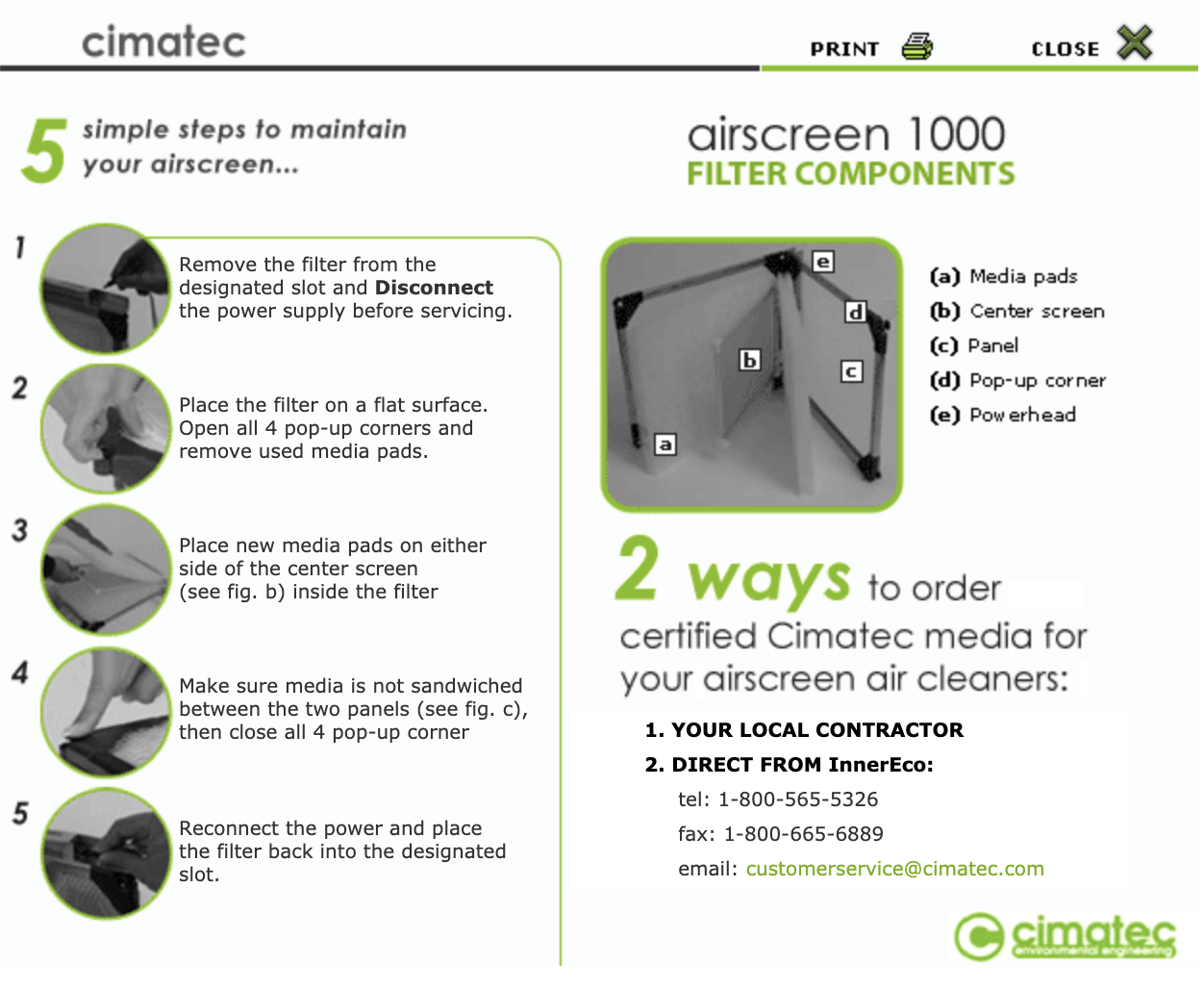 Warranty
If you have questions about warranties or our products feel free to send us a message!
---
Limited Five-Year Warranty
Be sure to fill out and return the enclosed warranty card within 30 days of purchase.
If you experience a problem with your product, please contact your HVAC contractor or contact InnerEco Environmental Engineering INC.'s customer service department. Do not attempt to repair the product yourself. Doing so may void the warranty and could cause damage or personal injury.
InnerEco Environmental Engineering Inc. warrants this product to be free from defects in the workmanship or materials, under normal use and service, for a period of five years from date of purchase by the consumer. If, at any time during the warranty period, the product is defective or malfunctions, InnerEco shall repair or replace it (at InnerEco's option) within a reasonable period of time.
If the product is defective, please contact:
the HVAC contractor that installed your product; or
InnerEco's customer service department.
This warranty does not cover removal or reinstallation labor costs or other expenses; it also does not cover any shipping costs.
This warranty shall not apply if the defect or malfunction was caused by:
damage resulting from abusive or unreasonable use;
neglect or failure to clean the unit;
use not in conformity with the printed directions;
supplemental changes; or
flood, fire or acts of God.
Damages that are the result of normal wear and tear will not be considered manufacturing defects, under this warranty. This warranty applies only to the original purchaser of this product.
InnerEco's sole responsibility shall be repair or replace the product within the terms stated above. InnerEco SHALL NOT BE LIABLE FOR ANY LOSS OR DAMAGE OF ANY KIND, INCLUDING ANY INCIDENTAL OR CONSQUENTIAL DAMAGES RESULTING, DIRECTLY OR INDIRECTLY, FROM ANY BREACH OF ANY WARRANTY, EXPRESS OR IMPLIED, OR ANY OTHER FAILURE OF THIS PRODUCT. Some jurisdictions do not allow the exclusion or limitation of incidental or consequential damages, so this limitation may not apply to you.
THE WARRANTIES SET FORTH HEREIN ARE EXCLUSIVE, AND INNERECO EXPRESSLY DISCLAIMS ALL OTHER WARRANTIES, WHETHER WRITTEN, ORAL, IMPLIED OR STATUTORY, INCLUDING BUT NOT LIMITED TO ANY WARRANTIES OF MERCHANTABILITY, WORKMANSHIP, OR FITNESS FOR A PARTICULAR PURPOSE.
This warranty gives you specific legal rights, and you may have other rights that vary from jurisdiction to jurisdiction. If you have any questions regarding this warranty, please contact InnerEco's customer service department.