Model 1000 Electronic Air Filter
Call for Price
Description
The Model 1000 is our original electronic air cleaner. It is the workhorse of our air cleaners. The Model 1000 effortlessly traps airborne particles smaller than 1 micron, in its unique electronically charged glass fiber media. The Model 1000 also has a low-pressure drop. The lower pressure drop in your ductwork, the less energy your furnace wastes to efficiently re-circulate the air through your home.
The engineers in our in-house research and development facilities have designed this air cleaner with two main things in mind:
1) The air cleaner must trap airborne particles smaller than 1 micron
2) The air cleaner has to allow for smooth airflow
A HEPA air cleaner is 99.97% efficient in trapping particles smaller than 1 micron. What they don't tell you, is that HEPA air cleaner media is made of such dense material that you need excessive force to pass the air through it. That is why only
20% of the air can be passed through the HEPA with the assistance of an additional fan.
The media inside Model 1000 is made of virtually see-through glass fiber pads. The material is so light, that it allows the air to smoothly pass through. On the other hand, the media is electronically charged hence creating a powerful magnetic field within the air cleaner. This magnet easily attracts smallest airborne particles, and those are the ones that really need to be trapped.
Did we mention that we offer you the same performance as HEPA does – only times more affordable.
HEPA CLASS™ PERFORMANCE FOR PEANUTS
Brochure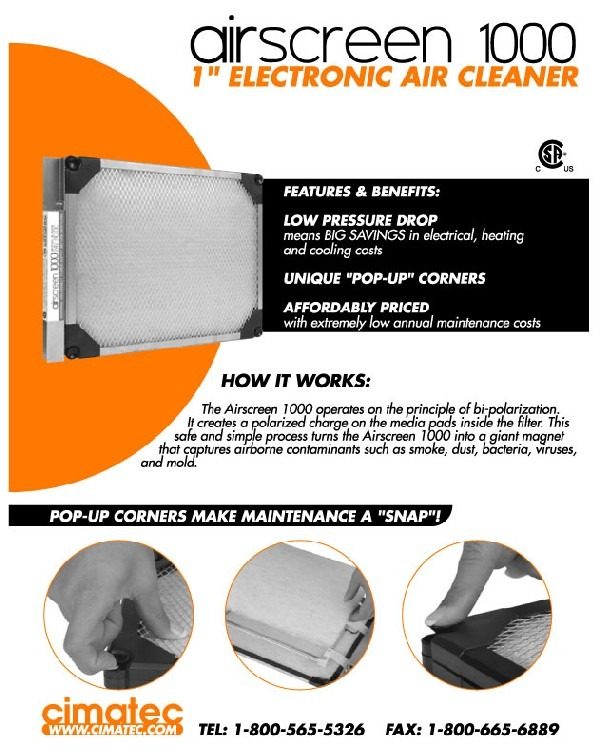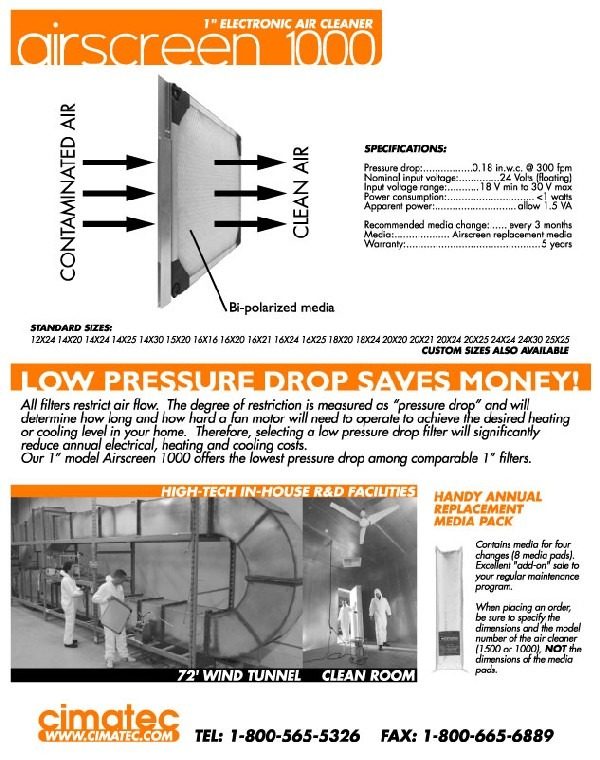 Support Material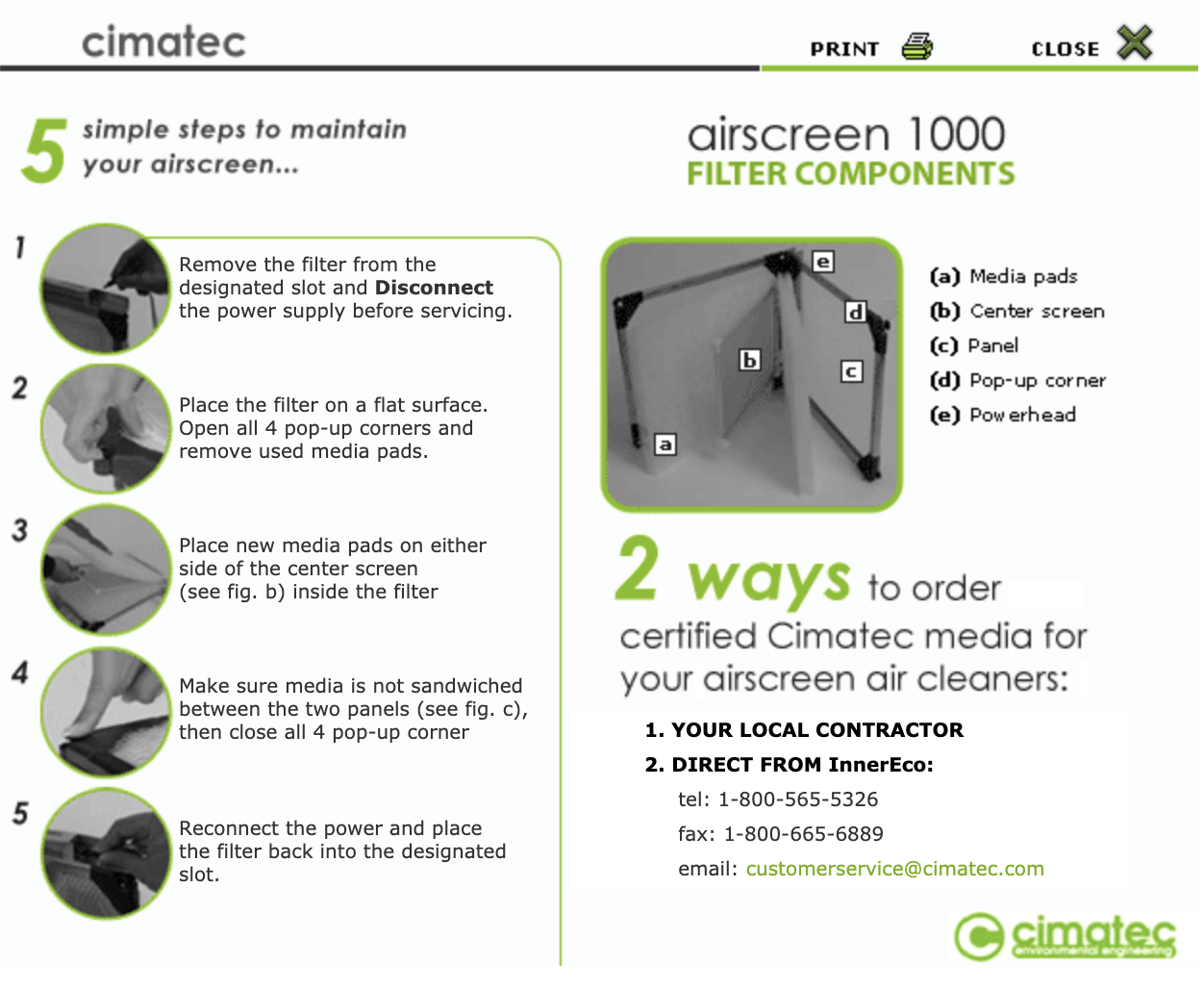 Warranty
If you have questions about warranties or our products feel free to send us a message!
---
Limited Five-Year Warranty
Be sure to fill out and return the enclosed warranty card within 30 days of purchase.
If you experience a problem with your product, please contact your HVAC contractor or contact InnerEco Environmental Engineering INC.'s customer service department. Do not attempt to repair the product yourself. Doing so may void the warranty and could cause damage or personal injury.
InnerEco Environmental Engineering Inc. warrants this product to be free from defects in the workmanship or materials, under normal use and service, for a period of five years from date of purchase by the consumer. If, at any time during the warranty period, the product is defective or malfunctions, InnerEco shall repair or replace it (at InnerEco's option) within a reasonable period of time.
If the product is defective, please contact:
the HVAC contractor that installed your product; or
InnerEco's customer service department.
This warranty does not cover removal or reinstallation labor costs or other expenses; it also does not cover any shipping costs.
This warranty shall not apply if the defect or malfunction was caused by:
damage resulting from abusive or unreasonable use;
neglect or failure to clean the unit;
use not in conformity with the printed directions;
supplemental changes; or
flood, fire or acts of God.
Damages that are the result of normal wear and tear will not be considered manufacturing defects, under this warranty. This warranty applies only to the original purchaser of this product.
InnerEco's sole responsibility shall be repair or replace the product within the terms stated above. InnerEco SHALL NOT BE LIABLE FOR ANY LOSS OR DAMAGE OF ANY KIND, INCLUDING ANY INCIDENTAL OR CONSQUENTIAL DAMAGES RESULTING, DIRECTLY OR INDIRECTLY, FROM ANY BREACH OF ANY WARRANTY, EXPRESS OR IMPLIED, OR ANY OTHER FAILURE OF THIS PRODUCT. Some jurisdictions do not allow the exclusion or limitation of incidental or consequential damages, so this limitation may not apply to you.
THE WARRANTIES SET FORTH HEREIN ARE EXCLUSIVE, AND INNERECO EXPRESSLY DISCLAIMS ALL OTHER WARRANTIES, WHETHER WRITTEN, ORAL, IMPLIED OR STATUTORY, INCLUDING BUT NOT LIMITED TO ANY WARRANTIES OF MERCHANTABILITY, WORKMANSHIP, OR FITNESS FOR A PARTICULAR PURPOSE.
This warranty gives you specific legal rights, and you may have other rights that vary from jurisdiction to jurisdiction. If you have any questions regarding this warranty, please contact InnerEco's customer service department.